---
European Society of Cardiology Congress 2023
The ESC Congress is the largest medical congress in Europe, gathering over 30.000 participants on-site and online. This year's theme was Heart Failure, relevant to all areas of cardiology and beyond.  One of the most important highlights was the presentation of the Guidelines for the management of cardiomyopathies. These are the first European guidelines on cardiomyopathies.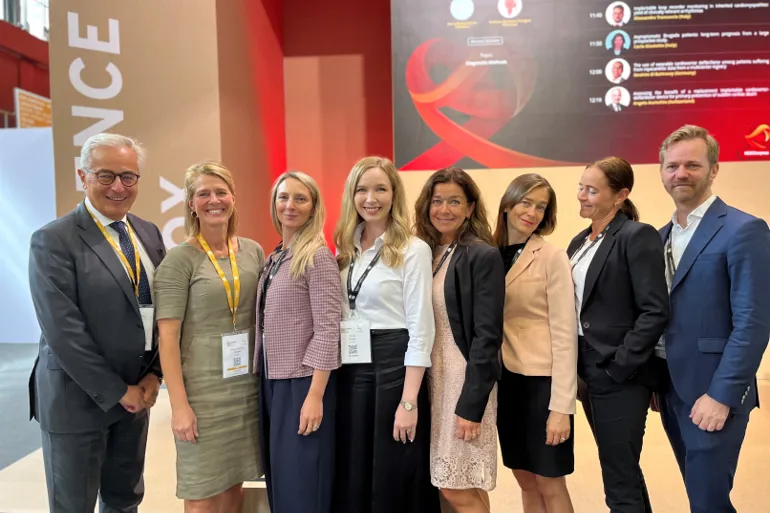 Many of the problems cardiovascular professionals deal with are either the cause or complications of heart failure, including coronary artery disease, valvular problems, stroke, arrhythmias and sudden death. All of these are focus areas for the research conducted at ProCardio. Therefore it is common that many center work package leaders and industrial partners are well represented, with a variety of duties, at this conferance in particular. ​

During this year's congress GE HealthCare also announced the launch of CardioVisio for Atrial Fibrillation (AFib), a digital tool designed to assist clinicians in visualizing longitudinal data relevant for disease progression from multiple data sources, and driving evidence based clinical decision support directed by up-to-date AFib guidelines.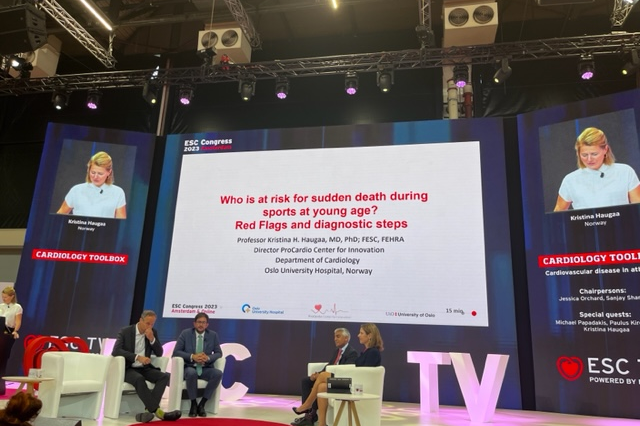 Earlier on this year professor Haugaa was among the speakers on ESC TV on the topic of ARVC. Unfortunately the first manifestation of any symptoms of this disease include sudden cardiac arrest in a young patient group. It is very important to be aware of any red flags and follow diagnostic steps carefully. During the congress Haugaa also presented on the ESC TV stage with the title "Who is at risk for sudden death during sports at young age?"​.

All patients with suspected cardiomyopathy are recommended genetic testing in order to find a cause for the symptoms. This is one of the main messages in the first comprehensive European guidelines in the field, says Kristina Haugaa, co-author of the new guidelines on cardiomyopathies presented at the ESC Congress in Amsterdam, to "Dagens Medicin". Haugaa also spoke about family screening during  the joint session with the European Resuscitation Council (ERC) on the topic of Reviving the heart, brain, and well-being after cardiac arrest.​ The session wished to explore and understand potential sources of heart dysfunction in cardiac arrest patients who are successfully resuscitated and whether interventions in the coronary arteries can improve the situation.​
Haugaa was also a chairperson for two abstract and poster sessions titled Risk stratification in ventricular arrhythmias and Ventricular arrhythmias and sudden death in non-ischemic heart disease?​ respectively.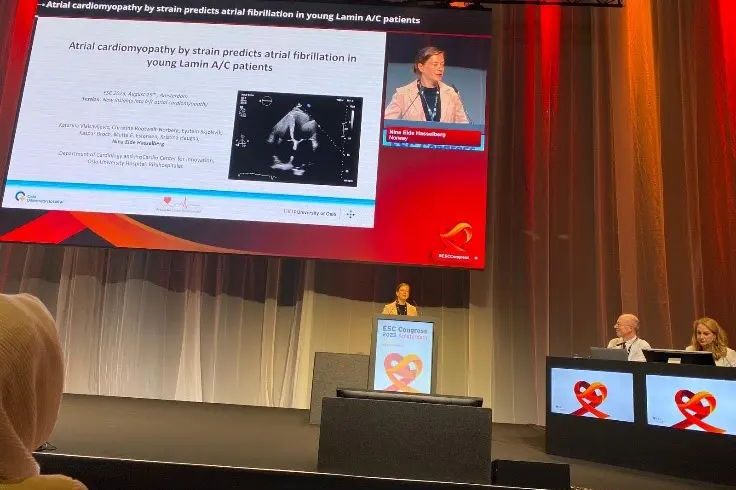 Dr. Nina Hasselberg presented the work "Atrial cardiomyopathy by strain predicts atrial fibrillation in young Lamin A/C patients" in an Advance in science session entitled "New insights into left atrial cardiomyopathy". 
The study shows how left atrial strain by echocardiography was used to first confirm atrial cardiomyopathy in young Lamin A/C dilated cardiomyopathy patients. Furthermore the study found that LA strain was the best predictor of atrial fibrillation and may have important clinical value in this patient group. 
During the session "Rare cardiomyopathies: a deep dive", Dr. Marit Kristine Smedsrud presented the study "Lamin A/C cardiomyopathy in children". This study showed a high prevalence of cardiac events in LMNA genotype positive children, highlighting the importance of early family screening and cardiological follow-up.


More reading and relevant links; ​


ESC 365 - Episode 17: Among the topics: Takotsubo Syndrome - Arrhythmogenic Right Ventricular Cardiomyopathy (escardio.org)
1 June 2023, from 18:00 to 18:20
Topic: Takotsubo Cardiomyopathy 
Host: Professor D. Grobbee (Utrecht, NL)
Speakers: Doctor C. Aguiar (Lisbon, PT) , Professor K. Haugaa (Oslo, NO) , Professor T. Luscher (London, GB)
Prof. Kristina Haugaa explores the common clinical manifestations observed in individuals presenting Arrhythmogenic Right Ventricular Cardiomyopathy (ARVC) and important signs to look out for.


The Dagens Medicin news article (in Swedish):
Nya riktlinjer för kardiomyopati slår ett slag för gentestning (28.08.2023)

Article in European Heart Journal on the new guidelines on cardiomyopathies, presented at the ESC Congress in Amsterdam:
2023 ESC Guidelines for the management of cardiomyopathies.
Arbelo E, Protonotarios A, Gimeno JR, Arbustini E, Barriales-Villa R, Basso C, Bezzina CR, Biagini E, Blom NA, de Boer RA, De Winter T, Elliott PM, Flather M, Garcia-Pavia P, Haugaa KH, Ingles J, Jurcut RO, Klaassen S, Limongelli G, Loeys B, Mogensen J, Olivotto I, Pantazis A, Sharma S, Van Tintelen JP, Ware JS, Kaski JP; ESC Scientific Document Group.
Eur Heart J. 2023 Aug 25:ehad194. doi: 10.1093/eurheartj/ehad194.
PMID: 37622657

European Society of Cardiology (ESC) home page
About the ESC Congress (escardio.org) 

Home page of Kristina Haugaa's research group:
Cardiogenetics and sudden cardiac death